Very Cute Jamie Taking Dick
Teen Porn
30-08-2022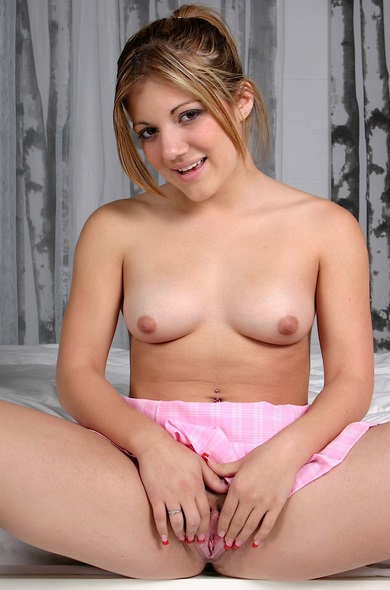 Starring:
Jamie Lamore, 18
Categories:
Teens
Length:
28 min
Resolution:
1920x1080
Format:
mp4
Size:
1581Mb
Jamie, is sweet, precocious, blonde, nubile nymph, who is anxious, to start her porn career, now that she has turned 18. After a fun Q&A, while she strips, to show off her amorous assets, we provide a stud, for her to showcase her talents, and she does not disappoint. She earnestly sucks his ginormous dinosaur dick, with sluttish gusto and glee, doing her best to shove every humongous inch down her throat. Then ready for more, she mounts his monumental tool in cowgirl, her sweet young ass, bouncing energetically on it, while he ferociously thrust his monster cock into her, making her moan and cry out, in hedonistic exultation. He then, ardently plows his titanic tool, into her razor stubble covered quivering quim, in missionary, as she moans ecstatically. He continues fervidly drilling, his donkey dick into her, in spoon, while she moans and wails, in salacious jubilation. After she greedily sucks, her pussy juice, from his dork, he potently pounds his colossal cock, into her in doggie, as she moans and yelps, in sluttish jubilation. She then, resumes her wanton ride in reverse cowgirl, passionately slamming her voracious cunt, onto his ivory tower of power, while she moans and squeals, in whorish rapture, until he pulls out, to give her a cum facial, leaving her with a big, happy, glazed smile on her face.
Most Viewed
Pressely, is a young, alluring, precocious, redheaded nymph, with a wonderfully wicked, randy, raunchy mind set. During the Q&A this tantalizing tart, can't keep her hands off her hooch, and is soon naked, masturbating seductively, for the camera. She then, shows off, her dexterous toes, by stroking the cock of our cameraman, and then her older stud, with her feet, like the sexy, little monkey that she is. Having aroused his interest, her silver stud dives in, to earnestly lick her fabulous, fur burger, while she moans euphorically. Then, he vehemently drills, his potent prick, into her furry, pink taco in spoon, while she moans and cries out, in lubricious exultation. Mounting her, on his meat missile, in reverse cowgirl, he fiercely fires it into her, while she frenetically fingers her clit, moaning and wailing, in salacious jubilation. She continues her wanton ride in cowgirl, vigorously humping her fine, round ass onto him, as he ferociously thrusts his meat stick into her, with savage fury, as she moans and howls, with unbridled passion. After she greedily sucks her slut sauce, from his dork, he potently pounds, his beefy battering ram, into her, in doggie, as she moans and yelp, in ecstatic whorish rapture. He then, returns to spoon, steadily driving his beef baton into her, while she moans and squeals, with lewd and lascivious exaltation, until he deposits a hefty cream pie, in her cock oven, that slowly oozes out, in great, white gobs of goo.
Nikol, is a young, tall, svelte, brunette seductress, playing a secretary, in this European, spy spoof. After a good meeting, her boss, wants her to give him a celebratory blow job, which she gladly does. Being the dutiful, young spy secretary, she savors sucking his aged member, with earnest dedication, eager to prove her worth. Being European, her boss goes directly for the asshole, pounding his prodigious prick, into her bunghole, in doggie, as she moans and howls ecstatically. Taking the lead, she then ferociously slams her asshole onto his fuckpole, in reverse cowgirl, moaning and shrieking, with fiery fervor. He continues diligently drilling his pork sword into her, in anal spoon, while she moans and yelps, with unbridled passions. Then, she resumes her raucous ride, in anal cowgirl, her firm, fit ass, exuberantly humping him, as she moans and shrieks, in sluttish jubilation, until he pulls out, to spray paint her ass, with a copious coating of cum, and being the dutiful secretary, she cleans up her mess, sucking his cock clean of every drop of cum and ass juice. It just goes to show you, while good help, may be hard to find, it is not impossible.
Darcy Dark wants morning sex from her boyfriend Martin Spell, but he's still asleep. That's okay. She peels her clothes off and struts naked to the bed. When Darcy crawls into bed with Martin, he wakes up to the delight of her kisses. Straddling her boyfriend, Darcy keeps their make out party going as her nudity makes what she wants clear. Sitting up, she pulls Martin up with her so that his face is right at titty sucking height. He makes good use of his mouth, which is just what Darcy was hoping he'd do.
Lily Steele and Jamie Dion are working together to put a picture on the wall. Lily takes the first attempt while Jamie sits and watches. Everything is going well until Jamie flips up Lily's skirt to show her that he can see up it. Lily doubles down on her position by climbing onto a ladder to put in a nail for the picture, which just gives Jamie an even better view. Getting to his feet, Jamie slides his hand up Lily's thigh to cup that ass.
Lana Roy is in the house taking selfies while wearing her sexy lingerie. She is sending hot photos to her man. He was outside but she didn't notice that until he (Raul Costa) rang the bell. She ran to the door to open for him. He obviously jumped on her, kissing her and squeezing her boobs. Sexy blonde Cherry Kiss puts her sexiest lingerie on and seduces her man Kristof Cale while he's working. He can't resist her perfect ass and fuck it deep as it deserved! Sexy blonde Alexa Flexy takes Kristof Cale's big dick in her tiny ass! She can't wait to be fucked so well. Smoking hot Kate Rich is feeling horny for her boyfriend Ian Scott. Kate, seeing how hard his cock is, decided to lick and suck it. She spreads her ass open and rides his big throbbing cock. After Ian pounds his cock deep into Kates ass many times over, he cums all over her gaping asshole.
Watch as these bored, ignored and horny wives enter into th exciting world of erotic encounters with men other than their husbands. Sometimes letting go of your inhibitions is the only solution!
Lonely step-mom Tiffany Rousso is feeling horny for cock and her stepson John Price is starting to look very tasty. She grabs his cock and sucks it like a pro. Tiffany then spreads her legs open for his hard cock. After taking a deep hard pounding, Tiffany then takes a messy hot facial for being one hot milf. Nikki Nuttz was hoping to get romantic with Sissy's daughter tonight. Unfortunately, the daughter went out with some other guy! Sissy will be there to take care of Nikki's desires and needs... she's much better suited for him! Horny granny Nanney can't help ogling at her grand-daughter's boyfriend Vince Carter... he looks so hot, tanned and muscular... but what's great about the situation is that he thinks she is hot, too! Cam model Franny decides to put on a show but her stepson Nikki catches her. She is surprised to see him and finds out that he is horny for her. Rob grabs her soft tits and sucks on them before eating her pussy. Franny sucks his hard cock then slides it between her legs for a deep hard pounding. He loads her mouth with a tasty hot load of cum